Arduino Vs Raspberry PI Vs PIC Microcontroller (2021)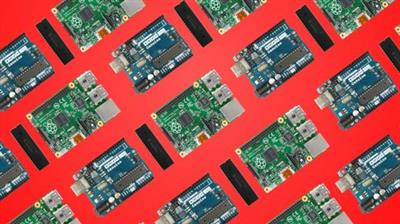 Arduino Vs Raspberry PI Vs PIC Microcontroller (2021)
MP4 | Video: h264, 1280x720 | Audio: AAC, 48 KHz, 2 Ch
Genre: eLearning | Language: English | Duration: 11 lectures (58 mins) | Size: 494 MB
You will no longer wonder what board should you start with, or what board should you learn or use, this is your way in
What you'll learn
Choose the right board that fulfills your needs
Differentiate between each of the boards and why one is better than the other
Requirements
Basic Knowledge of electronics
An open mind to accept the fact that there is a difference
Description
>>> When it comes to choosing a single-board computer or Controller, PIC Microcontroller, Arduino and Raspberry Pi are the big names that you'll be considering. But which one should you choose? What is the Arduino best used for? What are the drawbacks of using a Raspberry Pi? Why using PIC Microcontroller? And how do you decide between the three options? It can be a tough decision, so we'll break it down here for you. <<<
Why you should take this course?
This course will teach you how to use all three of these methods and more on the deep end, so you can choose which board best suits your needs.
You'll learn how to program your Arduino with C++, Python, and other popular languages.
We'll show you the basics of electronics with our LED Blink project, teaching you basic programming concepts like loops and conditional statements.
We'll teach you enough about microcontrollers to make a decision as to which one is the most suitable for your needs, by going through different features and functions of each board.
>>> Continues Updates <<<
4 Star | More Than 1300 STUDENTS!!! THANK YOU!!!
What students are saying:
Hassaan Qadeer says, "A good course for those who are confused to decide which micro controller suites their need. Well-explained differences and great understanding of when to use which board."
Sunil Thakur says, "Great course. Now I better understand what is what and what to use and look for when I start a project."
M. K says, "Useful info and its worth to watch the lectures "
Farukm says, "Thanks for the comparisons/review of the three "systems". I have a better idea on what to buy for my grandchildren. "
Roman Mishin says, "Information is good"
Welcome to this course.
For the purposes of this Course, I'll be discussing PIC Microcontroller PIC164550, Arduino Uno R3 and the Raspberry Pi 2 Model B. There are many versions of THESE boards, and there are plenty of alternatives to the PIC Microcontroller, The Pi and the Arduino that provide different specs and capabilities, but these Three are the mainstays of each line at the moment.
While both the Arduino and the Raspberry Pi are very versatile little machines, they both have specific things that they're good at.
Who this course is for:
Arduino Geeks
PIC Microcontroller Geeks
Raspberry Pi Geeks
Those who looks for a board to learn and use
Electronics Geeks
Download link:All links had been backup. Please contact me to donate and recieved links
Mailto: phantony1111(at)gmail[dot]com